What is Teeth Whitening?
Teeth whitening is a safe and effective way to remove stains and lighten the colour your teeth. At Canada Place Dental, our dentist offer both in-office and take-home treatment options for patients in Downtown Edmonton. 
Why Teeth Darken
Teeth become more vulnerable to staining from food and other substances with age. Because particles are naturally attracted to a tooth's enamel, products like coffee, tea, berries and tobacco can cause staining on the teeth.
How Teeth Whitening Works
In teeth whitening, our Edmonton dentists use bleaching agents that are peroxide-based. Oxygen acts on the tooth enamel as the active ingredient breaks down and creates the whitening effect. 
The whitening agents are designed to reverse the effects of aging and staining, lightening the colour of your teeth.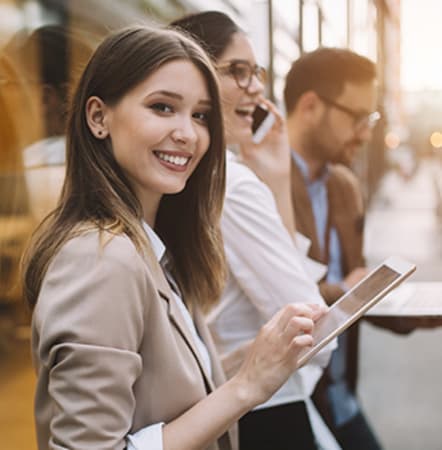 Teeth Whitening Options
At Canada Place Dental, we offer both in-office and take-home treatment options for teeth whitening. 
In-Office Treatment
We can help safely and effectively whiten your smile during an appointment at our dental clinic. First, a barrier is applied around your gums to protect them, then a thin layer of gel will be applied and chemically activated on each tooth.
Take-Home Treatment
You can also lighten your teeth from the comfort and convenience of your home using a custom whitening tray that we will create for your smile.