What is Cosmetic Dental Care?
Cosmetic dental treatments are designed to improve the overall appearance of your teeth and gums. At Canada Place Dental in Downtown Edmonton, our general dentists offer a variety of cosmetic services including teeth whitening and dental implants. 
Teeth Whitening
Professional teeth whitening is a safe, effective method of whitening your teeth. The in-office and take-home treatment options offered at Canada Place Dental can help you achieve a brighter, whiter smile. 
Learn More
Dental Implants
Our Edmonton dentists may place a dental implant as part of the process to replace a missing tooth and restore your smile.  A dental implant, together with a tooth replacement, looks and feels like a natural tooth. 
Learn More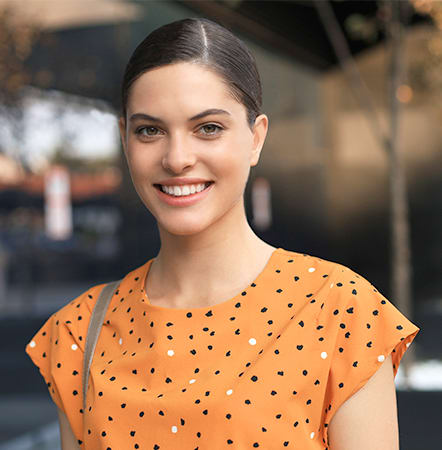 Same-Day Crowns, Inlays & Onlays
Our Edmonton dentists use CEREC® technology to place porcelain crowns, inlays and onlays in a single dental appointment to help restore your smile. No impressions, no temporaries - just a tooth-coloured restorations in one visit! 
Veneers
Dental veneers are thin pieces of porcelain that are bonded to the front of your teeth to change their colour or shape. They can be used on teeth with uneven surfaces, or teeth that are chipped, discoloured, oddly shaped, unevenly spaced or crooked to improve the overall appearance of your smile.
Dental Bonding
Dental bonding is a cosmetic procedure where your dentist bonds tooth-coloured composite resin to a damaged, decayed, discoloured or gapped tooth to give you a more even, natural-looking smile. 
Full-Mouth Restorations
Our Edmonton dentists can develop a restorative treatment plan that consists of a variety of cosmetic and general dental procedures.  This customized treatment plan allows us to complete all the procedures you need, in fewer dental appointments.
Cosmetic Botox
Botox, or Botulinum Toxin, is a purified protein used both for cosmetic and therapeutic procedures at Canada Place Dental. We use Botox to treat reduce wrinkles in our patients' foreheads and around their eyes and can also use it to allevaite some pain associated with TMD.
What is a Dental Implant? A dental implant is a small titanium screw that acts like the natural root of a tooth. Our Downtown Edmonton dentists may place a dental implant to help replace a missing tooth and restore your smile. 

Request An Appointment

The Benefits of Dental ...

Read more »

What is Teeth Whitening? Teeth whitening is a safe and effective way to remove stains and lighten the colour your teeth. At

Canada Place Dental

, our dentist offer both in-office and take-home treatment options for patients in Downtown Edmonton. 

Request An Appointment

Why Teeth Darken Teeth become mo...

Read more »